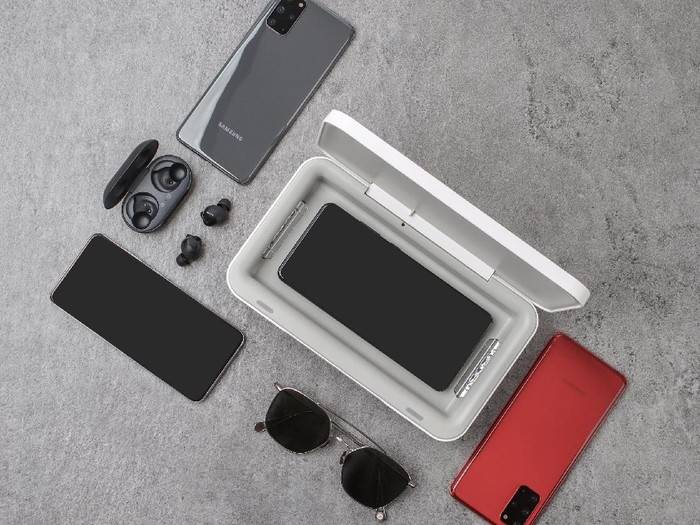 Foto: Samsung
Teknologi.id – Pandemi Covid-19 ini membuat banyak orang waspada akan barang-barang yang mereka gunakan sehari-hari, tak terkecuali ponsel. Baru-baru ini, Samsung mengeluarkan inovasi pengisi daya nirkabel yang diklaim mampu mensterilkan ponsel.
Seperti yang dilansir dari Engadget, inovasi terbaru Samsung ini bernama ITFIT UV Sterilizer with Wireless Charging. Alat ini berbentuk kotak yang mampu memuat ponsel berukuran besar seperti Samsung Galaxy S20 Ultra dan dilengkapi dengan penutup magnetik. 
Samsung menyediakan lampu UV ganda yang diklaim mampu membunuh 99 persen bakteri, termasuk Escherichia coli, Staphylococcus, dan Candida albicans. Proses sterilisasi ini hanya memakan waktu 10 menit, meski ponsel kamu diletakkan dalam waktu yang lama untuk pengisian daya. Untuk urusan pengisian daya, wireless charger ini merupakan Qi charger dengan output hingga 10 W dan dilengkapi dengan USB-C. 
Meski SARS-CoV-2 (coronavirus) tidak terdaftar sebagai virus yang mampu terbunuh dalam proses sterilisasi dengan ITFIT UV Sterilizer with Wireless Charging ini, beberapa studi mengungkapkan sinar UV bisa membunuh 99,9 persen virus corona yang ada di udara. Bahkan jika tidak 100 persen efektif, ponsel yang kamu genggam setiap harinya pasti dipenuhi oleh bakteri dan perlu disterilisasi. 
Sayangnya, alat ini baru dijual Samsung di Thailand seharga 1.590 Baht (Rp740 ribu). Harapannya, vendor raksasa asal Korea Selatan ini juga memboyong inovasi terbaru mereka ke pasar global. 
(nd)