COVID-19 continues to slow down Indonesia's economy, and this may have severe impacts on recent graduates entering the job market for the first time.
With the country's economic growth shrinking to 2.97% during the first quarter of 2020, many companies started cutting recruitment of new employees as early as March.
The National Planning and Development Agency recently announced the country's unemployment rate could hit its highest in more than a decade, rising to 9.2% – or nearly 13 million people – by the end of 2020.
Before the pandemic, 2019 estimates from the International Labour Organisation placed Indonesia's 15-24 year old unemployment rate (17.04%) as the second highest in South East Asia, behind only Brunei Darussalam (30.04%). Indonesia's rate has stagnated at high levels for the past two decades, having never gone below 15% since the 1998 economic crisis.
The Conversation spoke to doctoral candidate in economics at Waseda University Japan, Tifani Siregar, who said even before the pandemic, employment trends for Indonesia's youth were already concerning, and will worsen.
---


Baca juga:
No work, no money: how self-isolation due to COVID-19 pandemic punishes the poor in Indonesia


---
She says the pandemic will worsen the labour market for Indonesia's young candidates in three ways: higher barriers of entry into the job market, long lasting lower income levels, and worsening labour conditions.
Higher barriers of entry into the job market
Low levels of education in the country's workforce, inadequate vocational training programs and an increasing skills deficit due to digital advancements are often seen as contributing factors to high unemployment figures before the pandemic.
SMERU Institute researcher Muhammad Adi Rahman told The Conversation the pandemic will make penetrating the job market more difficult for them in the years to come.
"The competition will be much more fierce as they will have to fight it off not only with other young candidates, but also with job seekers who were laid off because of the crisis," he said.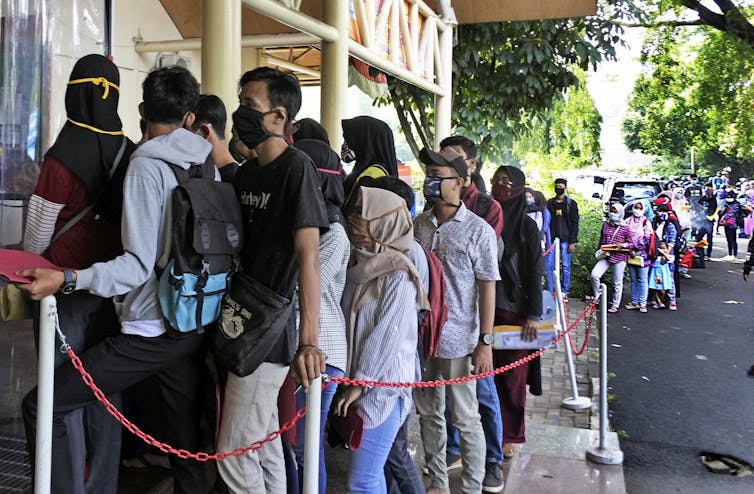 Tifani, on the other hand, says Indonesia's relatively "rigid" labour market also makes companies' hiring practices during the recession even more rigorous.
"In Indonesia, there are a lot of regulations designed to protect workers, from higher firing costs to relatively higher minimum wages compared to the national average," she explains.
Things will get worse even after the pandemic recedes, Tifani adds, as firms become more careful in recruiting new employees.
A 2016 study by the Institute of Labour Economics (ILO) in Germany, for instance, found young candidates entering a rigid labour market during a recession were more likely to get trapped in unemployment.
Long lasting lower inc